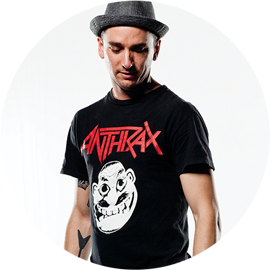 I am a Sydney based illustrator with a long spanning career in graphic design and art direction.  My waking hours are consumed with design and art projects, a small slice of which are visible on this site. I have spent more than half my life (the other half perhaps) as a musician, touring, writing and recording. In my spare, spare time I am obsessed with cooking and creating the perfect espresso.
I recently worked on art for Arttitude's Streets of Warcraft book for Blizzard Entertainment as well as a Photoshop tutorial and artwork for 3DTotal's Digital Painting Techniques Vol. 8. I created concept art for the 2016 feature film Terminus as well as storyboards and character designs for numerous, various projects.
The bulk of my work is painted and finished in Photoshop with 3D assets created in either Maya or Modo using Z-Brush for sculpts and Keyshot for renders. 
I sketch constantly, both digitally and traditionally and am the co-host of
Art Together
 a weekly sketch meetup in the Sydney CBD. Please come along sometime!
Connect with me on social media and please contact me for work at the email below:
PUBLICATIONS:
Streets of Warcraft | ARTtitude 2016
Digital Painting Techniques Vol. 8 | 3Dtotal 2016
2D Artist - Issue #11 | 3Dtotal Publishing 2014
ARTtitude Vol. 2 | Herschen 2013